Yamaha SY77 was released in 1989. Its technology combines second-generation Advanced Wave Memory (AWM2) and Advanced Frequency Modulation (AFM).
AWM2 tone source is sampled sounds, for a total of 112 waves including winds, stringed instruments, percussions and vintage synths oscillators. Realtime Convulation & Modulation (RC&M) synthesis - a unique SY77 feature! - permits to use sampled waveforms to modulate FM operators.
AFM resumes FM synthesis from DX7 synths generation including the famous 6 operators organized here in 45 different algorithms with 3 feedback loops and offering 15 waves in addition to the common sine, which brings more and richer harmonic content.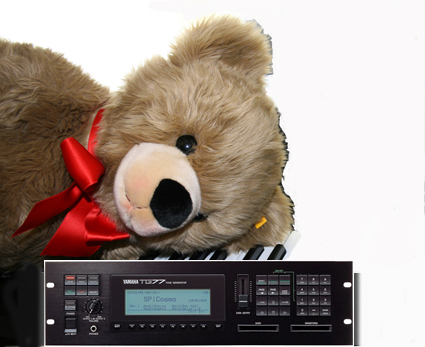 I personally use a TG77 model
A sound (called voice) can be built with 1, 2 or 4 elements (shortened E1-E4) that you can consider as 4 different synths which are working jointly. These elements are organized in 10 different predefined configurations called modes combining AFM element(s) only, AWM2 element(s) only or AFM & AWM2 elements together in polyphonic or monophonic modes (mode #11 is dedicated to the Drum Set and uses 61 AWM2 waves).
Each element can be controlled and modulated by an amplitude and a pitch EGs, two resonant filters (Filter 1 = LPF or HPF / Filter 2 = LPF only), an output level and a LFO.
Finally, you can send your voice to the included multi FX processor which permits to use simultaneously two "modulation" type FXs (chorus, flanger, symphonic & tremolo) and two "reverberation" type FXs (reverbs, delays, distortion).
Yamaha SY77 also includes a Multi mode where you can store until 16 voices in a "big set" and assign to each one specific settings such as different MIDI channels. You can store up to 16 Multis into your synth internal memory.
I personally use a TG77 model (released in 1990) which is the SY77 rack version with two major differences: it does not include the 3.5" floppy disk drive and the onboard sequencer (16'000 notes).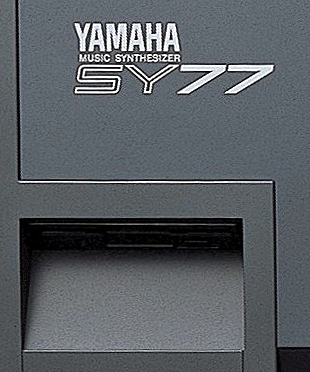 SY77 floppy 3.5" disk drive